A new pest management group established between the Warrego and Paroo Rivers in North-Western NSW.
The issue
Wild Dogs are a very prominent issue in Western NSW due to the high stock losses farmers experience, especially lambs in sheep flocks. Western Local Land Services currently has a project called "White Spaces", the aim of which is to reduce the amount of 'white spaces' on the map which represent properties that are not currently part of an active pest management group.
The solution
Pest management activities like dog baiting are far more effective when undertaken as part of a coordinated pest control program by a group, because they can be organised to coincide with baiting programs on neighbouring properties. This makes the overall program much more more effective as a dog's territory is not determined by a property's boundaries, and nobody's property can then become a bait-free 'harbour' for the dogs.
The impact
The establishment of the Warrego-Paroo Pest Management Group has facilitated increased communication between neighbors regarding wild dogs – they have now created a texting group and have meetings. The next step is to set up the group's own baiting racks.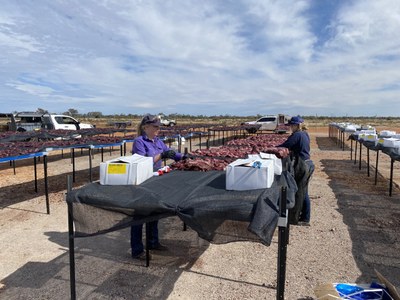 Project Partners